Meet the Beekeepers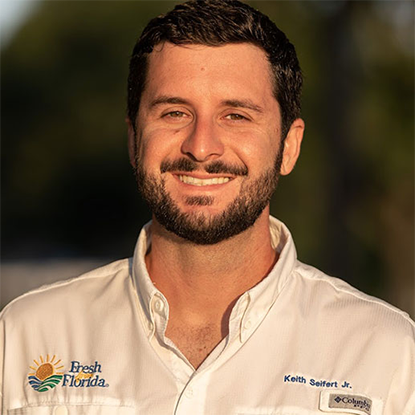 Keith Seifert Jr
Owner/Beekeeper
On any given day, Keith gets 20 to 30 bee stings. He confesses two things — you never get used to it and it hurts every time. The zing of the zap has not stopped Keith from his passion for bees that started when he bought his first hive at 16 years old. Keith, who started Sweet Bee Company in 2011, has been a beekeeper for 17 years and proudly serves as an apprentice-craftsman beekeeper at the University of Florida's Master Beekeeper Program. Keith is a well-versed public speaker for beekeeping, the biology of the honeybee and understanding its fascinating behavior. Beyond bees, Keith enjoys spending time with his family and dogs, outdoor activities like fishing and skiing, all things Florida, and of course, UF football. Go Gators!
Kalee Seifert

Marketing Director

Kalee joined Sweet Bee Company as the director of marketing, and quickly fell in love with bees. As a seasoned marketing guru and established sales rep, Kalee guides the organization's growth and development into the retail market. She equally enjoys suiting up and working the bees. Kalee is a graduate of the University of Central Florida. Go Knights!

Doug Winkle

Senior Operations Manager/Master Beekeeper

Doug, a knowledgeable and handy beekeeper, has been with the Sweet Bee Company for six years and provides strategic oversight to the growing operation. He has been beekeeping for more than a decade and is well skilled in research-based beekeeping best management practices. Doug is ServSafe certified, a nationally recognized qualification to ensure the quality and cleanliness of food production.

Yericco Casantello

Beekeeper

Yeri comes to us all the way from Caracas, Venezuela. He left Venezuela in 2018 in search of a better future and opportunities. On that path he came across The Sweet Bee Company. Yeri works alongside our head beekeepers in keeping the bees threving and making honey. Yeri still likes to reminisce on the very first time he got stung. His first instinct was to give up working in the bee business entirely. But he credits Keith and Doug for being so patient with him and leading him into the beekeeper he is today. Yeri has been with us with us since 2022 and has continued to grow exponentially in learning the bee business. Yeri's other passions include cooking and spending time with his
family.